3-Axis Machines
Named after American National Parks, our CNC routers are strong, long-lasting and always made in the USA.
DMS 3-Axis CNC Routers
DMS CNC routers offer a universal platform ideal for configurability for a myriad of applications. Our machines feature a large bridge, rails and ball screw which, when combined with a heavier gauge, all-steel frame, results in a machine that is rugged, durable and ideal for high production factories.
Looking for something custom? Our engineers have over 70 years of combined CNC experience with a proven track record of designing custom CNC solutions. Contact us with your production goals and we will design a machine to fit your floor space and exceed your goals.
Arches
This 3-Axis Moving Table CNC machine features a moving table design with moving single or twin tables and single or multiple spindle options. The twin table machine configuration allows pendulum processing between the tables thereby providing the ability to cut on one station while loading in the other. This robust machine is designed for the ultimate rigidity on required strokes up to 12′ long.
Bryce
The DMS 3-Axis Low-Rail, Small-Format, Moving Gantry CNC machine features a stationary table design with various customization options. This machine configuration is perfect for medium-duty work and nested-based machining typical of cabinet companies. It is also good for cutting hardwoods, Baltic Birch sheets, thin aluminum sheets, solid surface material and composite panel machining. All models have Fagor controllers.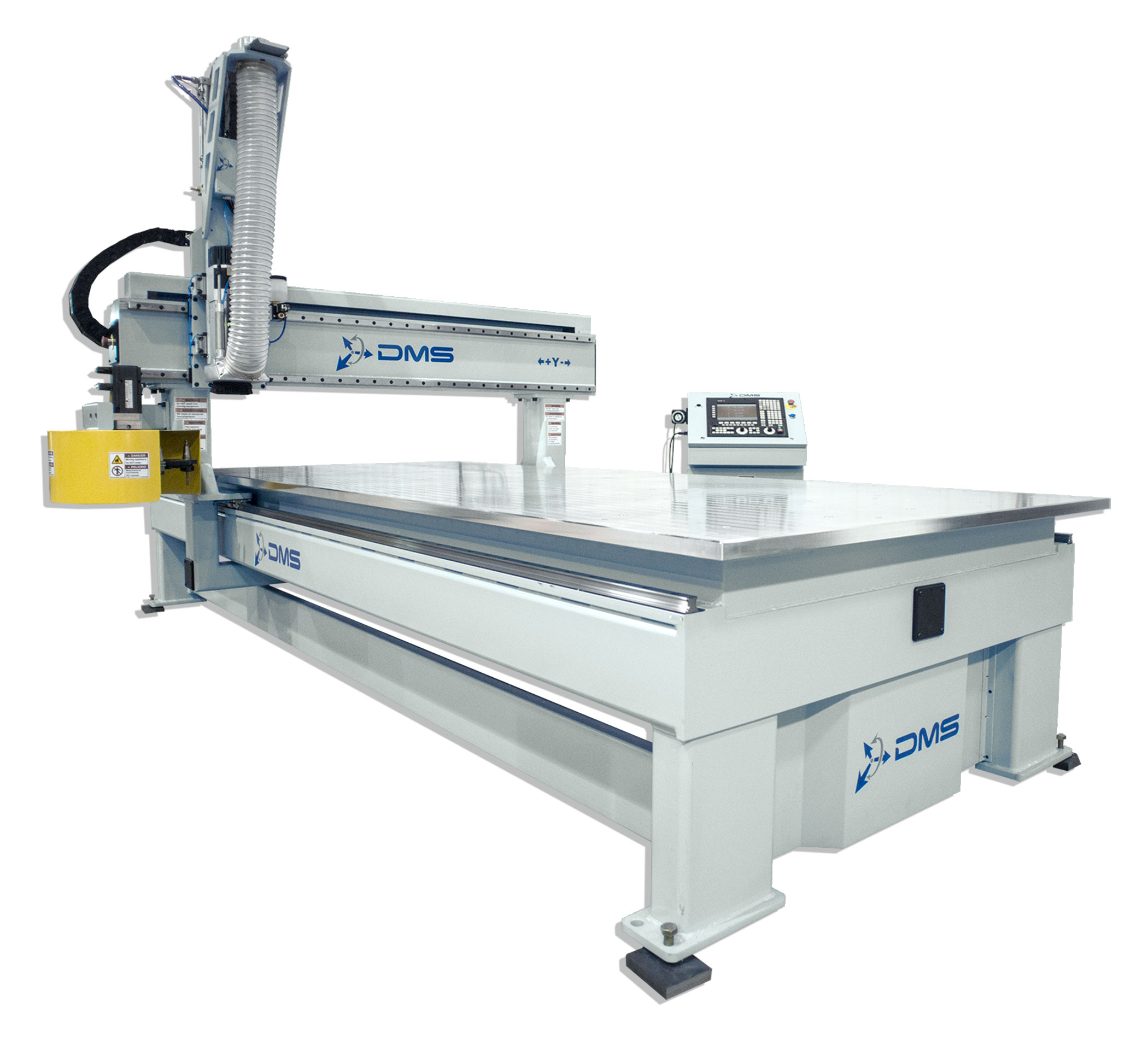 Klondike
This twin moving table, multi-channel, multi-spindle CNC router is the answer to today's complex manufacturing challenges. The Klondike incorporates an intuitive UI designed for experienced and new operators alike. The machine can act as either 2, 3, or 4 unique machines or pendulum process up to 4 spindles simultaneously. Increased feed rates and accelerations allow this machine to increase thru put and decrease processing times. 
Pinnacles
The 3-Axis Gantry CNC Machine is one of the most versatile machines on the market. Boasting an all-steel frame that is stress relieved and welded in house, this rigid machine is capable of handling anything from aluminum to foam. The shear versatility alone makes this one of our most popular models. A Rack & Pinion design on the Y Axis guides this machine quickly and accurately through cuts. The Fagor Control System and matching Servo Motors enable this machine to achieve tight tolerances as well as handle a variety of production needs. The Z Axis is capable of up to 48" and the table length can be extended as far as you need. The capability to add an additional gantry allows you to run two individual product runs at once and maximize your efficiency.
Zion
This 3-Axis Enclosed CNC machine features an enclosed design and all steel frame, making it ideally suited for high-speed wood or foam machining.