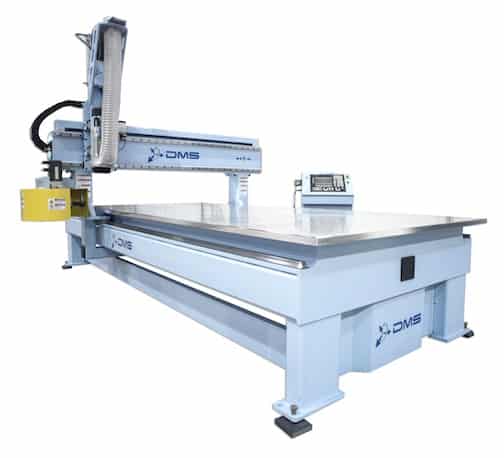 The DMS 3 Axis D3 CNC Machine features a stationary table design with various customization options. Completely assembled using welded steel, this machine is of industrial quality and designed for high production factories. The open style allows for easy loading & unloading and the table pairs seamlessly with our quick change fixture system.
By providing a stand-alone operator control station with a Fagor Servo Drive System with Absolute Encoders, has resulted in a more efficient machine footprint. Now with the option of a traveling carousel for increased tool capacity, the system is also capable of machining pass-through parts.
Our engineers have over 70 years of combined CNC experience with a proven track record of designing custom CNC solutions. Contact us with your production goals and we will design a machine to fit your floor space and exceed your goals.
Fagor 8037 Power Controller
Fagor AC Digital CAN Drives
10" Z Stroke
Spinning Ball Nut & Recirculating Ball Screw Assembly
5' x 12' Phenolic Table w/ Machined Vacuum Plenum
Multiple Spindle Options
3 Axis Spindle Dust Hood
Protected Drive Gantry System
Absolute Encoders on All Linear Axes
Dual-Core Windows 7 Processor
Stress-Relieved Steel Frame
208-240 Volt, 3-Phase Power
Custom Table Sizes
Upgrade to Fagor 8055i Controller
Sliding Tool Rack
Multiple Vacuum Pump Options
Automatic Tool Changer
Tool Height Sensor
Automatic Lubrication System
Barcode Reader